Over two weekends in September, Visit Knowle hosted a "Time Machine Festival". Joining other local organisations including Knowle Society, Knowle Local History Society and Knowle British Legion, a series of events in Knowle celebrated Knowle's heritage. We also took to opportunity to look to the future.
About the Time Machine
Makers and Creators
Visitors learnt artisan skills from local crafters in a series of workshops including canal art, rag rugging, felting, ceramics, journal making and glass making.
Take a Bow
Knowle Revels Drama Group and Warwickshire Dance School entertained visitors on the high street with performances of "George and the Dragon" and dance.
Talk of the Town
Knowle Society & Knowle History Society, Canal and Riverside Trust volunteers, the Women's British Legion, Knowle Girl Guiding, Steve Chaplin's Army vehicles and Packwood & Bentley Heath Women's Institute all hosted displays. Knowle Society offered guided walks and made available trail leaflets. The traditional tour of the church tower was also available.
Living Memories
Visitors could deposit their own memories of Knowle in our memory bank or with our videographer. They could also book onto a family tree workshop.
Future Scope
Looking to the future, Knowle, Dorridge & Bentley Heath Neighbourhood Forum were on hand to talk about their work and plans for Knowle's future, visitors could place their wishes for Knowle on a wishing tree while younger planners could build their version of the future of Knowle in lego.
Food and Drink
For anyone who got hungry, sustenance could be found from Eric Lyons, offering a succulent hog roast on the first weekend and traditional burgers and hotdogs on the second weekend.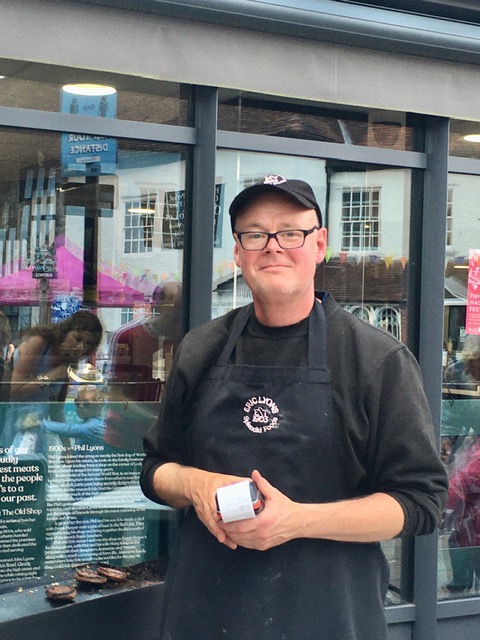 What our visitors said
"I enjoyed the Black Country Living Museum Workshop and look forward to the felting workshop later today. Lovely to see so much going on" – Visitor
"Really well done. We went and picked up a bap from Eric Lyons, went to the canal art and rag rugging making at the legion. Really lovely day out. Thanks for organising." – Visitor
"Thanks for the mention and involving us in this. We love being here in Knowle so it's great taking part in a community event. Well done with all your preparation and organising, it's a brilliant programme" – Business
"Great to meet so many of the local community as well as visitors from further afield on Saturday. Lots of visitors enjoyed tours up the church tower, the family events at Penny's Café and the history exhibition in the church" – Community Group
"It was a very enjoyable day. My students made some phenomenal hand stitched journal covers…. What a fantastic event this heritage fortnight is well done to all the organisers" – Workshop host
Thank you
Thank you to all our volunteers and to all the community groups and businesses who took part in the day. We'd also like to say thank you to our funding partners, Solihull Council and National Trust.