By Claire Carter, Knowle Parish Church
There are lots of opportunities to shop sustainably and waste free in Knowle. Reducing our impact on the environment is a responsibility we all share and shopping locally can help. Knowle has a wide range of excellent independent shops offering many locally produced goods which often have a lower carbon footprint. Many of our food retailers are happy for you to bring your own containers to purchase fresh food, which helps reduce waste from packaging. Supporting our local retailers and businesses not only helps our local economy, but ensures we have choices for the future around how and what we buy.
Food Shopping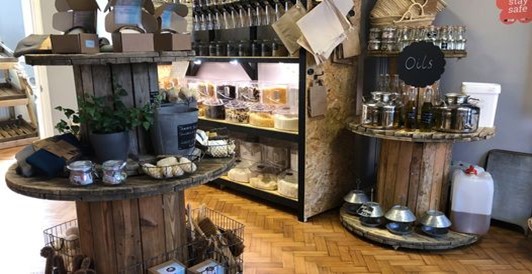 Ella's Earth. 1622a High Street. Tel 01564 775100
Knowle is very lucky to have its very own zero waste shop! Ella's Earth stocks a wide range of dried foods, fresh vegetables, frozen items, oils and vinegars, household and personal hygiene items as well as SESI refillable cleaning products. New products are being introduced all the time. Bring your own containers and buy only as much as you need. They also offer a local vegetable delivery service.
Eric Lyons. 1666 High Street. Tel 01564 772034
Our local butcher is happy for you to bring you own containers to buy fresh meat and deli items. They are constantly working on improving the way they package foods and have pledged to review each item they sell, quarterly, to become more sustainable as a company. Their national delivery service uses cardboard and Woolcool (lambswool) to insulate their boxes. They source much of their food locally to reduce food miles and produce zero food waste within the store.
Peter's Health Food. 1654 High Street. Tel 01564 778089
Peter's Health Food has a range of dried food in compostable packaging rather than plastic. It also offers a range of Eco refillable cleaning products. Their in-house brand of supplements are also available as refillable with a discount. Peter's Health Food offer a free water bottle refilling station for you to top up when you are out and about shopping in Knowle.
The Bread Collection 1701 High Street. Tel 01564 772124
The Bread Collection has a wide range of locally baked breads, patisseries and savouries available in paper wrapping. They also sell a range of continental cheeses, salamis and hams you can purchase plastic free and in the exact quantity you need.
Loch Fyne The Bank House, High Street. Tel 01564 732750
In addition to the restaurant, you are able to purchase fresh fish and seafood from Loch Fyne, using your own containers. The catch varies day by day so they recommend you call ahead first. Their restaurant also serves fresh, sustainably sourced fish and seafood.
Tesco 40-44 St. John's Close.
Tesco offer some package free fruit and vegetables. They also now have reusable bags for fruit and vegetables. Multipacks of tins such as baked beans and tomatoes are now available with cardboard sleeves rather than plastic.
Knowle Traditional Sweet Shop 1578 High Street. Tel 01564 771355
Knowle Traditional Sweet Shop sell old fashioned sweets by weight, which helps reduce some of the plastic packaging.
Coffee Shops & Cafes
All our local cafes are happy for you to bring your own reusable cup when ordering takeaway drinks. The big coffee houses do this too. Costa will even give you a 25p discount on your takeaway coffee and are happy to refill your water bottles for free.
Freda's Deli 1636A High Street. Tel 01564 779240
A firm believer in the farm to fork ethos, many of their ingredients are sourced locally and the menu includes vegetarian and vegan options.
Elderberry Blacks 1678 -1680 High Street. Tel 01564 776344
Delicious homemade food using fresh locally sourced ingredients. As the food is made on the premises, it is plastic free. They also offer vegetarian and vegan options.
Café Viola 1590 High Street. Tel 01564 779468
Café Viola offer a Mediterranean style menu with fresh food cooked on the premises. They are happy for you to bring your own reusable cups for takeaway drinks. They also offer a charity loyalty scheme which supports the charities represented by the local charity shops in Knowle.
Repairs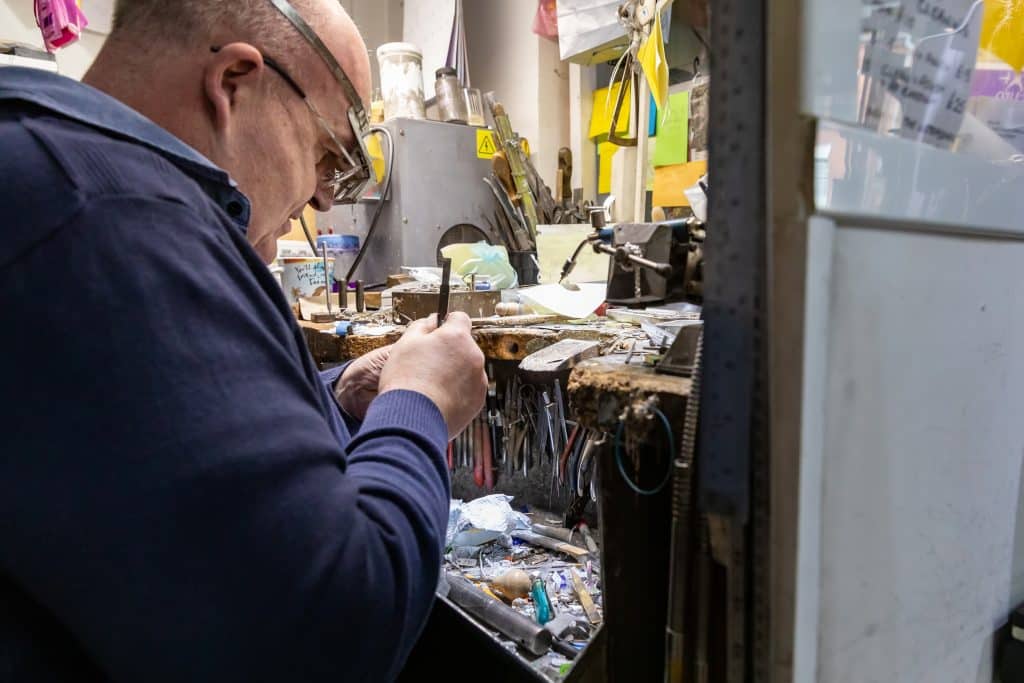 Getting an item repaired rather than replacing it with new is always a sustainable option as it reduces the use of new raw materials and prolongs the lifespan of an item. There are several shops in Knowle that offer quality repairs.
Timpsons 1646 High Street. Tel 01564 779093
In addition to key cutting, Timpsons Knowle also carry out phone and tablet repairs, shoe repairs, watch repairs as well as clothing repairs and alterations.
Glasstower Jewellery 1582 High Street. Tel 01564 777775
Glasstower design and make handmade jewellery but also offer repair, cleaning, restringing and stone resetting.
Knowle Goldsmiths 1644 High Street. Tel 01564 772827
Knowle Goldsmiths offer repairs and renovations of watches, clocks, silverware and jewellery, including the main brands as well as antiques.
Ideal Dry Cleaning 4 Greville Court, 1663d High Street. Tel 01564 730033
As well as dry cleaning, Ideal also offer a repair and alternation service.
Pets World 32, St John's Way. Tel 01564 779156
Pets World offer a sharpening service for knives and gardening tools.
Recycling Options
Tesco 40-44 St. John's Close.
Tesco Knowle has a Soft Plastic Recycling Centre. Here you can recycle soft plastics that are not acceptable in your kerbside brown bin. Soft plastics are those that if you scrunch them in your hand, they bounce back and include crisp packets, bread bags, salad bags, plastic film lids from yoghurts and fruit punnets. The plastic collected at this recycling point is recycled into more packaging for use in Tesco stores. More information can he found here. You can also recycle your used batteries in store.
Windridge Pharmacy 1709 High Street. Tel 01564 772150
All used inhalers can be recycled at Windridge Pharmacy. This is very important as the propellants in commonly used inhalers are powerful greenhouse gases and should not be disposed of in landfill. If all used inhalers in the UK were returned for safe disposal, it would save over half a million tonnes of CO2! Windridge Pharmacy also stock the environmental brand Faith in Nature.
Ideal Dry Cleaning 4 Greville Court, 1663d High Street. Tel 01564 730033
Ideal Dry Cleaners are one of the first to offer chemical free cleaning on all your clothes as a more environmentally friendly way to dry clean your clothes. You can also return your wire coat hangers to be reused.
Charity Shops
Charity Shops offer a highly sustainable way to shop and here in Knowle we have several charity shops including Acorns, Mind, Marie Curie and an Oxfam second hand bookstore. Not only can you shop waste free and support good causes but buying second hand helps prolong the lifespan of items, prevents them going to landfill and saves precious resources which helps cut your carbon footprint. At times, the charity shops may also accept textile waste if it is labelled as such separately. It's important that textiles are never disposed of in your black bin. Textile waste can often be recycled and the charity sector sells it by weight.
Miscellaneous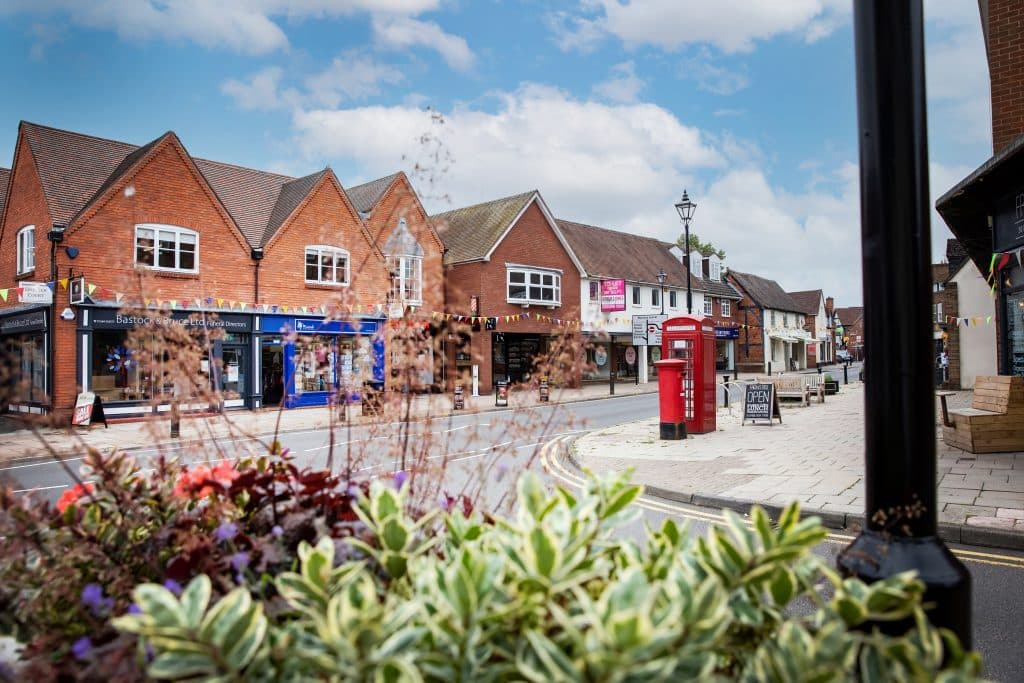 Oxfam 1659 High Street. Tel 01564 773798
In addition to a wide range of good quality second hand books, Oxfam also sell Fairtrade teas, coffees and chocolate. Fairtrade Tea bags can be bought in bulk in paper sacks. They also stock Eco brands Faith in Nature and Bio cleaning products. You can pick up Beeswax wraps as an alternative to single-use cling film, cheeky panda toilet rolls and bamboo lunch boxes and Keep Cups.
Theo Georgio 1638 High Street. Tel 01564 777656
Theo Giorgio offers a range of refillable shampoos and conditioners.
Piccadilly Cards. 1588 High Street, 07706 022438
Piccadilly cards now have a range of greeting cards available plastic free.
Carly's 1664 High Street. Tel 01564 775763
Carly's stocks an increasing range of plastic free gift cards made in the UK. They also stock gifts from several Eco companies including vegan handbags and Pom scarves made from recycled plastic bottles.
Pets World 32, St John's Way. Tel 01564 779156
Pets World have a selection of plastic free natural treats. They also stock Adios zero plastic compostable poo bags and the Naturaw pet food range that comes in compostable tubs.
Knowle Library, Chester House, 1667 -1669 High Street. Tel 01564 775840
Knowle Library is a valuable local resource. Borrowing books and other materials rather than buying them is the most sustainable way to consume. Each item can be used many times over. If the library doesn't have the book in that you are looking for, they can often order it in for you to collect.
Knowle Parish Church 1717 High Street. Tel 01564 779123
At the heart of the community is Knowle Parish Church. Knowle Church has a target to reach net zero by 2030 and runs a wide range of events, talks and initiatives to encourage and support its congregation and the wider community to live more sustainably. You can find more info here.
The need to think about sustainable options and ways of doing business is something that more and more businesses are taking seriously. As consumers, it's important we support those businesses and help them to make the necessary changes.