Enter our competition to win a prize for a father figure today!
Submit your entry on Instagram and Facebook by commenting on our Fathers Day Competition post.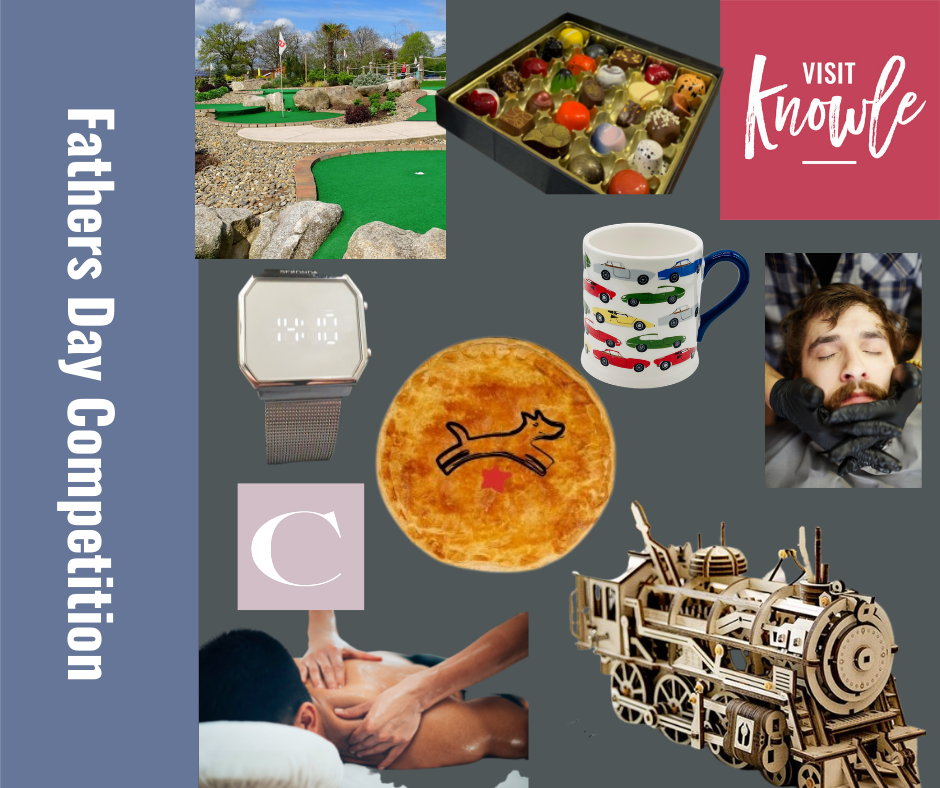 All you need to do is nominate who you think should receive a Fathers Day Gift and why. No need to tag them.
We'll be randomly choosing winners to receive one of the following prizes
Back, neck & shoulder massage + haircut donated by The Boutique
Mens Watch donated by Glass Tower
Family Pass for Adventure Golf donated by Four Ashes Golf Centre
Wooden Train Puzzle donated by Indigo Art Gallery
Gift Box of 25 chocolates donated by 1683 The Chocolate Place
£25 Gift Card donated by Cristal Ladieswear
Steak and Purity Ale Pie donated by Eric Lyons
Mug featuring cars donated by Carly's
Facial from Crystal Tips
Entries close 20th June with details of the winners announced Monday 21st June. We'll notify the winner by messaging them on Facebook or Instagram. Please note all prizes will need to be collected in person.
Terms and Conditions
By entering the promotion, entrants confirm that they have read and agree to be bound by these terms and conditions and all rules and guidelines applicable to the use of Instagram and Facebook, including the rules.
Promoter: The Promoter is Visit Knowle,
How to enter:

Entrants must be UK residents, aged 18 years or over. This promotion is not open to any employees of the Promoter or any of their affiliate companies, their families, agents or anyone else connected with this promotion.
One entry allowed per person. Entries submitted on behalf of another person will not be accepted and joint submissions are not allowed.
Incomplete, illegible, misdirected or late entries will not be accepted.
If applicable, copyright in all entries shall belong to the Promoter. Entries shall not be returned to entrants.
No purchase is necessary and the entrant does not need to pay to use Instagram or Facebook, however internet access is required.
By participating in the promotion, entrants agree that the Promoter may, but is not required to, make their entry available on its website and any other media, whether now known or invented in the future, and in connection with any publicity of the promotion. The entrant agrees to grant the Promoter a non-exclusive, worldwide, irrevocable licence, for the full period of any intellectual property rights in the promotion entry and any accompanying materials, to use, display, publish, transmit, copy, edit, alter, store, re-format and sub-licence the promotion entry and any accompanying materials for such purposes.
In entering the promotion, the entrant confirms that it is eligible to do so and eligible to claim the prize. The Promoter may require the entrant to provide proof that it is eligible to enter the promotion.
Promotion Period: The promotion is open to entries from 00:00 GMT on 15 June 2021 until 23.59 GMT on 20 June 2021 (the "Closing Date"). Entries received after the Closing Date will automatically be disqualified.
Prize:

The Promoter is offering entrants the following prizes:

[List]
The prize is non-refundable, non-transferable and non-exchangeable and there is no cash alternative offered. The Promoter reserves the right (at its sole discretion) to offer an alternative prize of equal or greater value.
How are the winners selected and notified:

The winners will be randomly selected from all valid entries received during the promotion period by an independent person, or under the supervision of an independent person.
The winner will be contacted within 5 days of the draw via Instagram Message / Comment or Facebook Direct Message/comment on the original entry and will be asked to provide their full name and address. If a winner declines a prize or fails to respond within the required period, they forfeit any right to the prize. If a winner fails to respond within 4 days of this initial contact, a redraw will take place from the remaining valid entries to select a new winner. A winner may be required to submit valid identification before receiving their prize.
All prizes will be collected by the winner.
The Promoter reserves the right to discount any inappropriate or offensive entries and to disqualify any entries if the Promoter, at its sole discretion, believes that there has been an attempt to manipulate or tamper with the operation of the promotion (including, without limitation, by setting up multiple Instagram accounts in order to submit multiple entries).
In the event of unforeseen circumstances or circumstances outside its reasonable control, the Promoter reserves the right (at its discretion) to modify or discontinue, temporarily or permanently, this promotion without prior notice.
Entrants agree to be bound by the decisions of the Promoter, which are final in all matters relating to the promotion. No correspondence will be entered into in respect of the Promoter's decisions.
This promotion is in no way sponsored, endorsed or administered by or associated with Facebook, Instagram or any other social media channel. By entering, entrants acknowledge that Facebook and Instagram do not bear any responsibility for this promotion and, to the maximum extent permitted by law, entrants release Facebook and Instagram from any liability whatsoever in connection with this promotion. All information entrants provide when they enter the promotion is provided to the Promoter and not to Facebook, Instagram or any other social media channel.
The Promoter shall use entrants' personal data for the purposes of carrying out the promotion, The promoter may share the entrants personal data with the business who has donated the prize in order to arrange collection or delivery.
Subject to the winner's rights under applicable data protection legislation, the Promoter shall be entitled to use and feature the name of the Father's Day Competition winner for publicity purposes and winners agree that they will participate in any reasonable publicity arranged by the Promoter or its agencies.